Insider tip: Norway's first inofficial scenic route
"Nasjonale Turistveger" is the initiative of the Norwegian Public Roads Administration to define, develop and present official Norwegian Scenic Routes.  So far the website of Nasjonale Turistveger shows a catalogue of 18 worth visiting Norwegian Scenic Routes throughout the whole country.
Of course Norway has a lot more beautiful places and scenic routes. Besides the officially announced routes visitors will find a scenic route in the countryside of Norway's southern county Telemark. The beauty of the landscape and the attractions along the way are worth announcing it as an "inofficial Norwegian Scenic Route".
The Scenic Route Skien - Rjukan
Route description
The scenic route Skien - Rjukan passes through Telemark from county capital Skien first to Notodden and from there in two alternative ways to Rjukan. Along the route the visitor will enjoy a beautiful landscape with forests, long lakes, some quite rivers and wilder flows, a snowcapped mountain, a fell with wide view and finally a waterfall. And moreover, a few attractions can be explored such as Telemark Canal, Heddal stave church, tramways to mountain tops and the UNESCO world heritage site at Rjukan and Notodden.
Route map and data
Start point: Skien, county Telemark  (GPS 59.191573, 9.589106)
End point: Rjukan, county Telemark  (GPS 59.874364, 8.495584)
Route distance

along dale (street 361 and 37 / Gransherad): appr. 178 km
across plateau / fell (street 651 / Tuddal): appr. 177 km
Note: The route across the fell (street 651) is maybe closed in the winter and / or under certain weather conditions.
Tip 1: Best photo light (sun position) across fell is before noon.
Tip 2: By combining both ways you can create a round trip. Also on the southern part of the route you can drive back on opposite lakesides. Or you just take the same street back which will look differently from another perspective.
Travelling to the route
From the Norwegian ferry ports below the starting point Skien is only 30 to 50 kilometers away.  Coming from or through Germany you can choose between two travel routes:
via Hirtshals, Denmark (follow A7, E45, E39) with a ferry to Langesund or Larvik
via (Denmark &) Malmö, Sweden (follow A1, E47, E20, E6) via Oslo or with a ferry from Strömstad to Sandefjord
See also more details on "travelling to Norway by car" (in German).
See also details and tips about "driving in Norway" (in German).
Attractions of scenic route Skien - Rjukan
Telemark Canal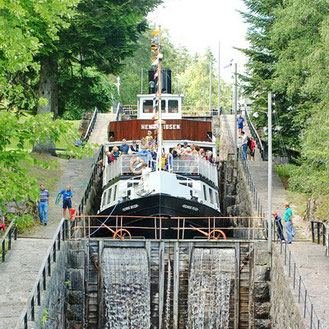 The 105 km long Telemark Canal connects Dalen to Skien and the North Sea by linking several long lakes through a series of 18 locks.
Heddal Stave Church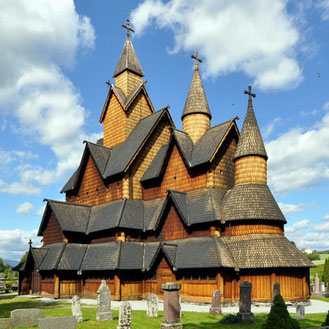 Wooden Heddal stave church was built in the 13th century. With a height of 26 metres it is Norway's largest stave church.
UNESCO World Heritage
In 2015 the UNESCO inscribed the Rjukan-Notodden Industrial Heritage Site into the world heritage list.
Rjukanfossen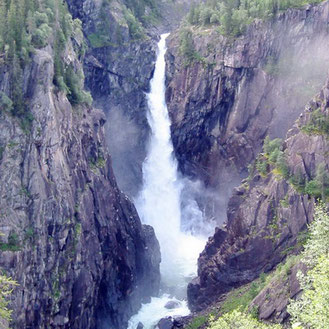 Rjukanfossen is a waterfall with a height of 104 metres. Most of its water is used for energy production.
Gaustatoppen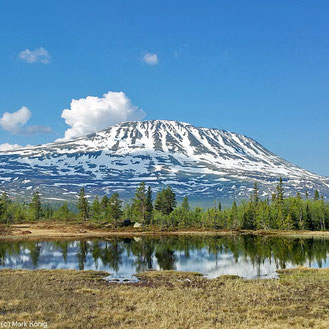 With a height of 1883 metres above sea level Gaustatoppen is the highest mountain in the county Telemark.
Krossobanen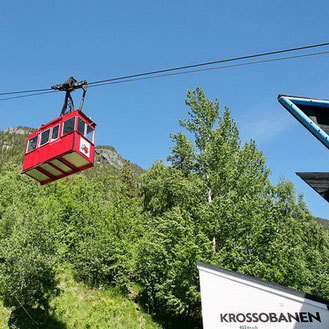 Krossobanen is an aerial tramway. Within five minutes it brings guests up to the top station Gvepseborg on 886 metres.
Further tips for route
Sports possibilities along route
Sport enthusiasts will find a variety of opportunities along the scenic route Skien - Rjukan:
Canoeing on Telemark Canal or on one of the numerous lakes
Biking tours in various ways (tourist information), e.g. off-road cycling on the Hardangervidda (e.g. with Krossobanen)
Hiking in the woods, along lakes or on the fell plateau around Gaustatoppen between Sauland and Rjukan (examples)
Skiing in Gaustablikk (Touristen-Info)
Angling at lakes and rivers (take care of getting a license)
Playing golf:
Extreme sports: Norseman Xtreme-Triathlon 
Women only: The Norwegian hiking day (Norwegian website)
Onward journey after reaching route's end
After arriving in Rjukan there are several alternatives for onward journey or driving back:
Norway's capital Oslo is worth a trip and a stay. It is only 180 km away and opens the opportunities to continue to middle and north of Norway. From here you can also drive back through Sweden.
Continue exploring Norway and drive to Fjordland with a lot of attractions and scenic routes (some details and another map about Fjordland in German)
Getting back to Norway's south coast:

Add a fjord experience on a scenic round-trip through South Norway: Drive 150 km to H

å

ra, partly a wonderful fell route. From here you can enter an official Scenic Route Ryfylke with the famous Lysefjord. From route's southern end Oanes you can drive on to ferry ports Stavanger or Kristiansand (both offer ferries back to Hirtshals, Denmark).
A different and more direct way to Kristiansand is via Dalen and street Rv9.
Links