Scenic waterfall in Voss on the way between Bergen and Flåm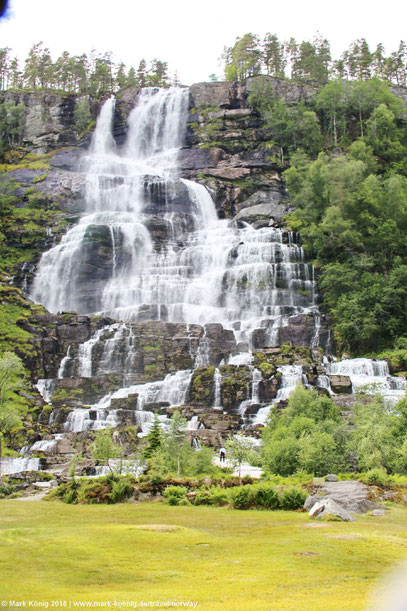 Troll road sign of yesterday's post made me remembering the name of waterfall Trollafossen.  I do not know why the waterfall is named that way; may be beauty of cascades can rarely be seen in such a nice arrangement as trolls. Sometimes the waterfall is also called "Tvindefossen" but official map material of Norway show the name Trollafossen. There is also a rapid in the river across the street marked with the name "Tvinnefossen".
The Trollafossen is located in Fjord Norway directly at road 13 which leads from Vossevangen to Myrkdalen. On this part the road is also the shared E16 connecting Bergen and Flåm (link to Google Maps). Well known Hardangerfjord in the south and Sognefjord in the north are attractive next destinations on a tour.

With a height of over 100 meters and the multiple cascades Trollafossen is one of the most beautiful waterfalls for me. The man in the photo at the bottom of the waterfall illustrates the dimension of it. The photo was taken in June 2014, together with my soulmate Julia who made wonderful detailed photos (detail 1; detail 2).

It is very easy for me to fall into a flow activity by doing time exposure photos from the waterfall in total or the cascades in detail. Best time for good photo light is in the morning hours before noon.
And remember if you visit Trollafossen: The longer you stay the better is your chance to see a troll bathing in the fall ;-)

(c) Author: Mark König, July 25 2018