5 reasons why here WeGo is the wrong planning tool for a Norway trip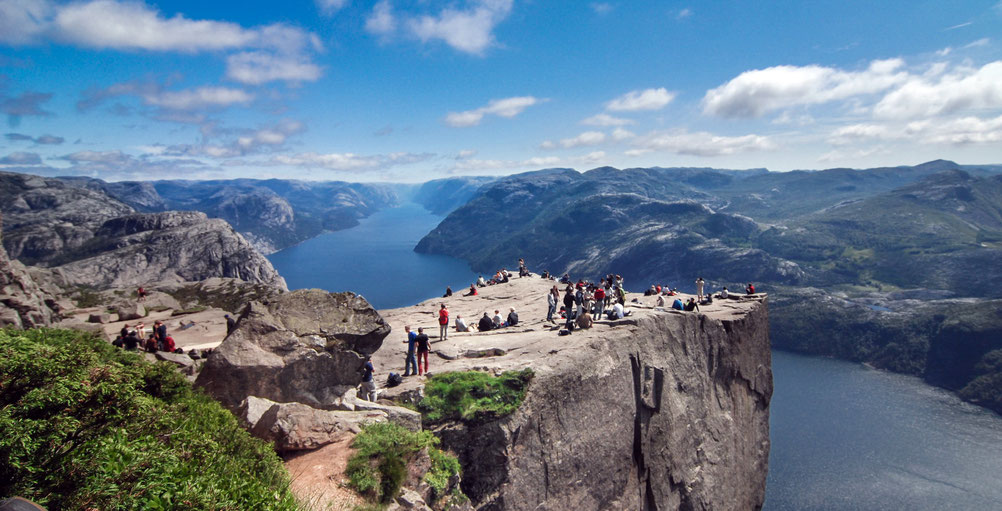 Planning a journey to Norway can fun but only with the right tool. By doing some checks I found out that map service WeGo from www.here.com is not a tool you should plan your Norway itinerary with. Here are my five reasons why.
I apologize in advance that the screenshots are in German but WeGo does not allow to switch the language for their website only. Then I would have to switch my whole browser language - another area of improvement.
#1: Some top places and sights are not listed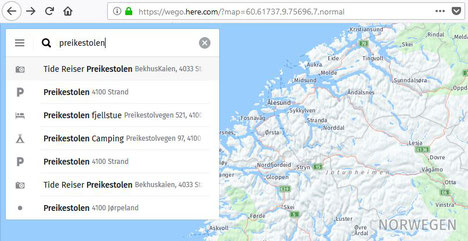 Preikestolen with its fantastic scenic outlook is for tourists one of the top 5 hikes in Norway. But where is it? If you start a search for "Preikestolen" in Here WeGo  you will get some possible search results. But none of them is the real Preikestolen.
If you click on the list entry with the photo icon - which I would assume to be the one - you will be headed to the business address of a ferry and bus tour provider in Stavanger. Obviously this cannot be the viewpoint. On top: here.com pulls TripAdvisor data (photos, ratings, etc.) of the sight for the entry of the tour provider.
Single problem? Not really. Try other famous hikes such as Trolltunga or Kjerag.
#2: Some top places and sights are listed wrong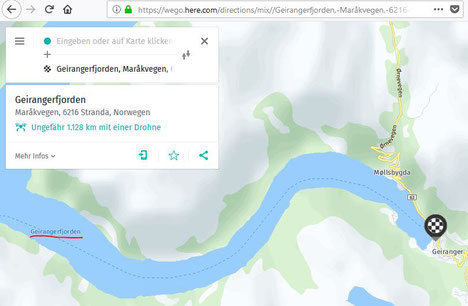 Example: Beautiful Geirangerfjord may be one of the most known attractions of Norway. If you search for it on here.com you can see multiple issues:
Obviously wrong result: A fjord cannot have a land address.
The fjord itself is shown in the map (red underline) but not accessible via the search.
Complete wrong understanding / information architecture: A fjord is an area, not a single place. This issue has Google Maps as well but they locate this fjord in the water.
And another basic web design rule is not followed: "Never show unimportant information". Who wants to know that the place is 1,128 km away by drone? What a waste of time reading that not useful information - provided to millions of people on the planet.
#3: Low data Quality around sights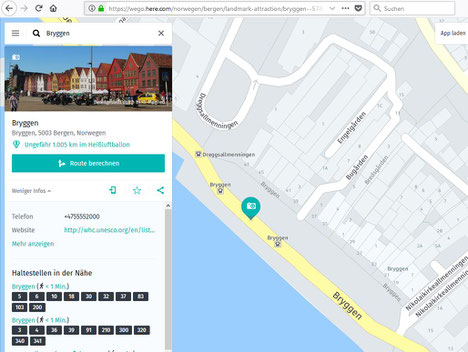 The examples above showed already some issues of Here WeGo with information architecture and data quality. Looking into details of a sight provides more issues of data quality.
Did you ever want to call a UNESCO world cultural heritage by phone? Here you go. If you enter "Bryggen" in the search you get two results, the street and the sight; they are wrongly placed by the way: the sight is on the street and the street in front of the Bryggen buildings. Also here: Bryggen is not a single point, it is an area of over 1,000 ha.
The details of the point on the street provide a phone number which is the number of the tourist info in Bergen. But sight "Bryggen" is not the tourist info. To maximise the inconsisteny of data here.com provides a link to the website of UNESCO world heritage which is nice but is neither related to Bryggen as a sight nor to the Bergen tourist info (remember the phone number).
Also: At this sight they do not provide data from TripAdvisor which would make sense here.
Also: The info of distance with "hot-air ballon" is not really useful.
#4: Best scenic routes and travel options are unknown
As a tourist I want to know options of routes, sometimes the fastest, sometimes the most scenic, sometimes other options I have with a car - for example a car ferry. In the following example I gave my best to "help" Here WeGo by entering the ferry quay addresses of the two ports which are directly connected by a ferry but if the tool does not know the ferry, it will not find it and thus does not help the user / customer.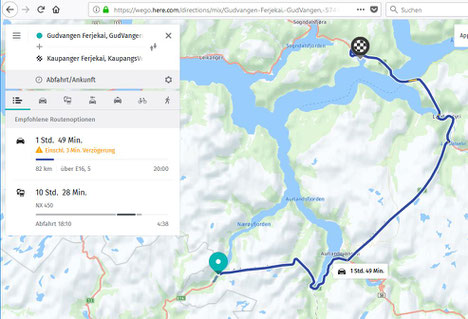 Here WeGo sends the car driving user on a 82 km journey with over 50 km tunnels in total - no options. Very remarkable is that Here WeGo shows no options for pedestrians and bikers. Definitely no tool for backpackers and world walkers.
No question: it is also an experience to drive the world's longest car tunnel: Lærdal Tunnel. But there are other alternatives.
Alternative 1: A route option not known to here.com is to use the official scenic route "Aurlandsfjellet", provided and published in the Internet for years by Norwegian Public Roads Administration (NPRA). This route leads tourists not through Lærdal Tunnel but via the old mountain pass road which was the connection before the tunnel was built. It brings tourists also to one of the most spectacular viewpoints of Norway: the Stegastein (see photo). In winter times this street can be closed but the request to here.com was in July; no reason not to mention it.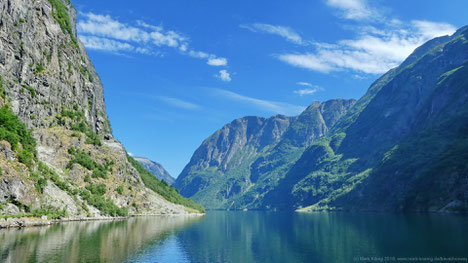 Alternative 2: Two old but reliable car ferries connect Gudvangen and Kaupanger directly. The ferries drive through the very scenic Nærøyfjord (see photo) which is enlisted UNESCO world nature heritage since 2005.
This connection also allows pedestrians and bikers a very scenic transfer between the two villages. Remember: Here WeGo had no route option for them.
The biggest issue here is information architecture again: ferries are not offered as a way of travel which can be chosen directly. In most countries of the world this may not be an issue. In Norway it is.
#5: Too often no routes for pedestrians and cyclists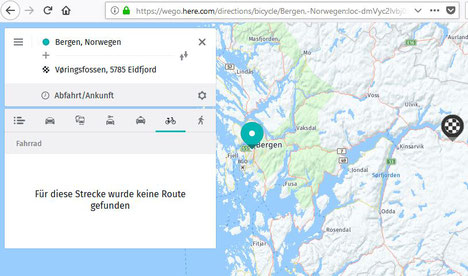 The last example showed already that here.com limits the diversity of options for travellers. It also showed that especially for walking and cycling tourists Here WeGo is not a tool at all.
Another example demonstrates that. There is no route option for cyclists to drive from Bergen to Vøringfossen, one of Norway's largest waterfalls.
MY Result: DO not use here WeGo for Planning a Norway Trip
Let me say: Here.com is by far not "there.com", especially not with map tool WeGo in Norway. Users will neither be able to find the locations of some world class sights nor additional correct information. The tool, the data and the conceptional intelligence behind it is by far not mature enough to allow even a high-level itinerary planning, especially no detailed planning. And this is only the planning not the traveling part.
My recommendation for real good map data quality is Norgeskart.no, for planning single day trips Google Maps can be used as well - but also they have some of the issues listed here with data quality in Norway. Most important is still the intelligence in the head and knowing the options. Still in 2018 it needs own research, knowledge and checks of all information provided (or not) by tools such as here.com.
 (c) Author of text: Mark König, edited July 21 2018
Photo Preikestolen by Stefan Krause, Germany (2007), under open free art license 1.3 (source).